Discover more from Built Stuff
Thoughts on Technology, Economics, and the Built Environment
#2 - Talking to My Parents About Race
Also: how urban planning policies and design choices contribute to our divided country
A couple of weeks ago, just before Memorial Day, I started this newsletter to share my thoughts on technology and the building industry, because I was missing the regular discourse and conversation that we took for granted in our pre-quarantine existence. I did not set out with the intention of focusing on politics, but almost as soon as I pressed send on that first issue, the video of George Floyd's death was seen and heard around the world. With so much going on in America, it feels strange and out of touch to be putting writing out into the world and NOT mention the current civil unrest in the country.
Originally, I had a draft lined up for this next issue about data interchange and cloud computing in the AEC industry, but it now seems frivolous to be diving into technical details about file formats when there's so, so many more pressing issues. There will be plenty of time to write about that, but that day is not today.
Instead, a few thoughts on recent experiences:
1. Black Lives Matter.
Full stop. Far more eloquent explanations of why have been written and shared, so I won't offer much more at this point other than to unequivocally state my support.
2. What BLM Looks Like to My Parents
I had a really interesting discussion with my mom last weekend about protests, police brutality, and the unique struggle of Black Americans in this country. For my mother, who came to this country in the early 1980s as a refugee from Vietnam after the war, and other immigrants like her, there can be a lack of historical context necessary to understand and process the protests that have swept the country these past few weeks.
There is an enormous amount of content about the protests being shared on platforms like WeChat, which we know is ubiquitous in China but is also a very real part of Chinese immigrant communities here in the US. My mom shared a few of them with me. Many of them are cell phone videos taken from the apartments of NYC's Chinatown by terrified, disapproving immigrants, looking down upon the streets in the Lower East Side as throngs of people march by, occasionally looting and destroying property, chanting in a language they barely understand to protest a criminal act that they may only have cursory knowledge and experience about. It can be a disorienting thing to witness for a cultural group that historically has not employed protests as a means for affecting change in America.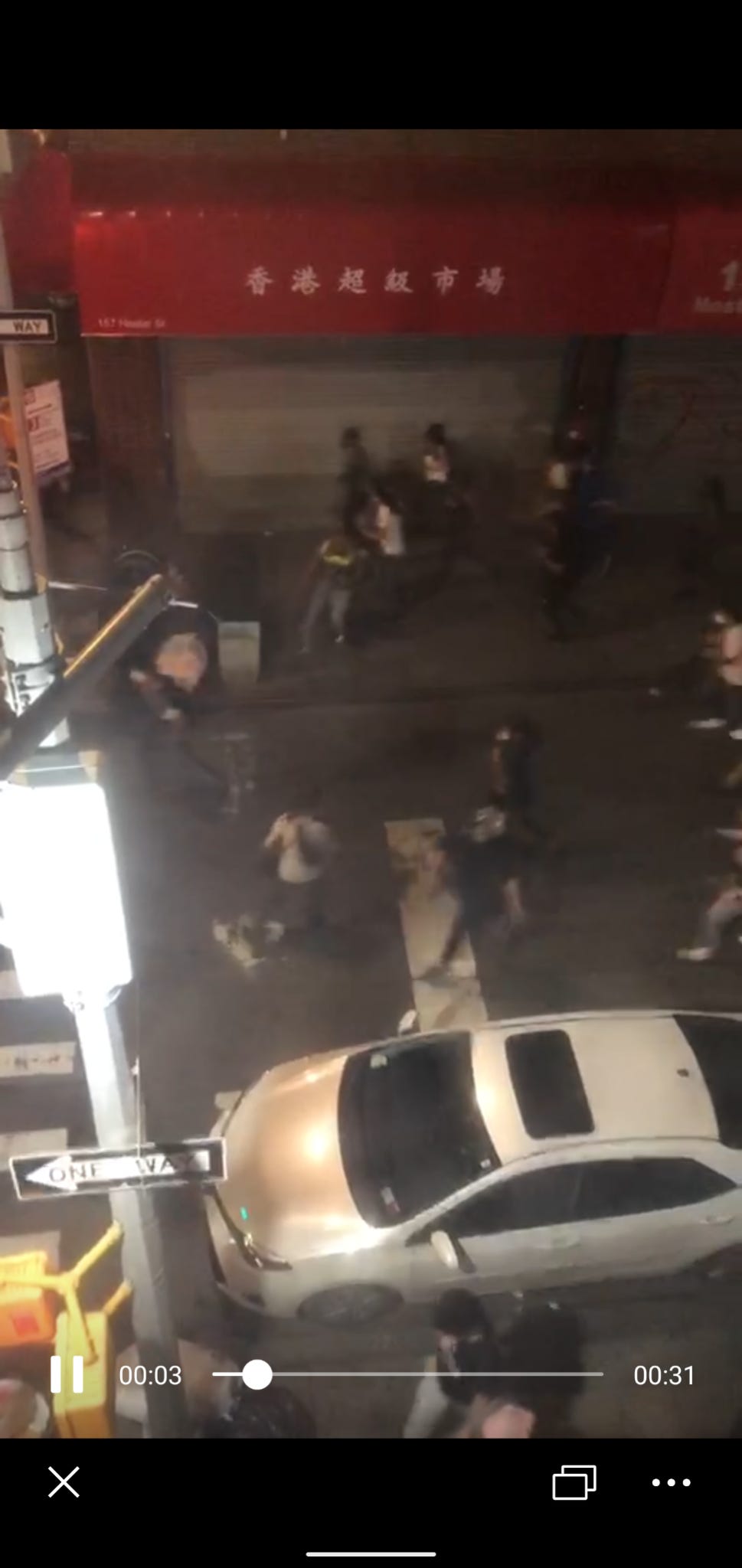 What's being passed around on WeChat right now: photos and videos of crowds on Chinatown streets.
Ultimately, I think I was able to draw enough comparisons to other forms of civil unrest from other countries to get my message across. After all, my mother felt strongly enough about the unjust rule of Communism in Vietnam to literally hop on a boat and leave her home country for good, so on some deeper level I knew she could empathize with the idea of taking a stand against an increasingly authoritarian state and fighting for systemic reform to government and policing.
Nevertheless, it was a difficult conversation to begin to explain all of this to my parents, not the least of which was due to my poor grasp of Chinese vocabulary required to express complex abstract concepts such as racial equity, reparations, police brutality, and hypocrisy. Thankfully, a number of online resources have been created to make this easier:
3. The Immigrant's Media Diet
Speaking of WeChat videos, this interchange reminded me that it's worthwhile to pay a bit more attention to the types and quality of news and media sources that cater to immigrant communities. I know plenty of families who consume more online streams of China-sanctioned CCTV news than local American news, and who are therefore more in tune with what's happening on the other side of the globe rather than their own front door. This has definitely colored the Chinese immigrant community's perception of America's handling of coronavirus over the last three months, and is surely influencing their interpretation of the Black Lives Matter movement as well. With Asian populations making up more and more of the voting bloc heading into the 2020 elections, how various candidates are reaching this demographic (in particular the non-native English speakers) may become a deciding factor.
Other Things
To bring this back to the building industry, here are a series of relevant content from around the internet regarding the historical and cultural impact of architecture, design, and urban planning have had on the racial inequities that plague the country.
---
Thank you to all who have subscribed, reached out, commented, tweeted, and more. It's been encouraging to see everyone's support and feedback. If you think there's someone out there who might be interested in this content, please do share and subscribe!