Discover more from Built Stuff
Thoughts on Technology, Economics, and the Built Environment
#1 - The Struggle of Independent Landlords
Also: reopening the country, and post-pandemic seating charts
May 7th happens to be my birthday (I turned 33 this year!), but it was also the date of the preliminary vote for the Rent Guidelines Board's annual adjustments on the 1 million or so rent-stabilized apartments in New York City. For those unfamiliar, the Rent Guidelines Board sets the annual percentage rent increase limits for rent-stabilized apartments, and typically lands anywhere from 0-5%. Curbed has a great overview of how the process works.
I happen to live in one of these rent-stabilized apartments, and over the years I've come to pay close attention to the Rent Guidelines Board hearings, obviously to stay informed as a renter, but also because I find local politics and civic proceedings to be fascinating. You can view the entire meeting on YouTube:
These hearings are contentious each and every year, but in 2020, against the backdrop of a global pandemic, skyrocketing unemployment, and a paradigmatic shift in how we live and work in our homes, the relationship between tenant and landlord is more fraught than ever. During this year's preliminary hearing, the board voted to approve a rent freeze for 1 year leases, and a rent freeze for the first year followed by a 1% increase on the second for 2 year leases.
This, coupled with New York's current eviction moratorium, is designed to ensure that renters have enough protections in place to weather the storm of the Covid-19 shutdown. At first glance, this feels like the right decision to during this time of incredible economic hardship. However, if we look beyond the current climate, the broader macro-economic impact of landlord regulation may have some nastier long term consequences.
---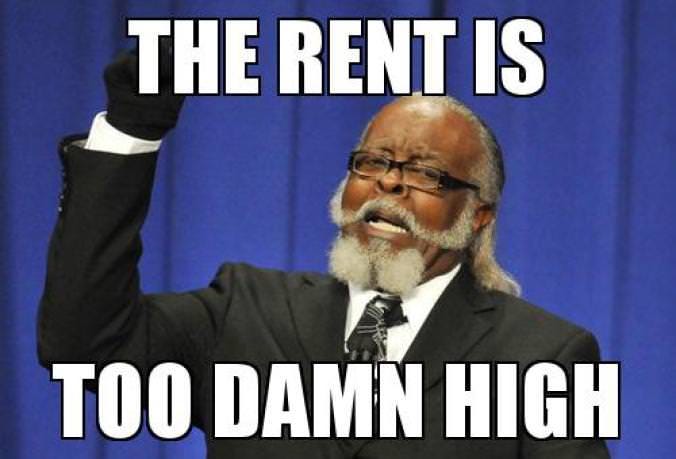 Most of us have a pretty bad picture in our heads when it comes to landlords, and sure, there are a lot of bad ones out there. We tend to think of landlords as people who lucked into the properties they own and now just try to live off the land by nickel and diming the little guy. But most landlords in America are neither jerks, nor supremely wealthy. In fact, the vast majority are hardworking small-time owners who depend on rent from tenants to make their mortgage payments, generally try to maintain and service apartments to keep tenants happy, and are not explicitly out to take advantage of people.
According to the latest American Housing Survey, over 50% of landlords remain independent, and the vast majority of them own fewer than 3 properties and often live in one of the buildings they own while renting out other units. In a place like New York, where there aren't a lot of single family homes to begin with, the competition is huge whenever one hits the market, and the only feasible way for an average person to become a home-owner is to find a small multi-unit property, take out a mortgage, move in, and rent out the rest of the units. You end up being a landlord out of necessity.
The problem with policies like rent freezes and eviction suspensions is that it lowers leverage and profits for landlords, disincentives further investment in their properties (why repaint or get new appliances if they can't charge more for the improvement?), and puts the squeeze on already thin margins. In fact, this year operating income for landlords fell for the first time since 2003, as costs rose 5.8%. As rents skyrocket in cities, so too do the maintenance costs and property taxes. Landlords are being asked to do more with less, and at some point a tipping point will be reached where it will no longer be economically sustainable.
---
So what happens when the mom-and-pop landlords hit that breaking point and get fed up with these challenges? Well, there's a precedent we can look to. During the last recession's housing crisis, as people across America foreclosed on their homes, large institutional investors like the Blackstone Group came in to buy up these foreclosed homes and turned them into rental properties. During the last decade, this shift occurred primarily in single-family homes in struggling cities and suburbs; over the next decade, the same trends may play out in prime markets like New York and San Francisco, affecting medium density, multi-unit residences, as mom-and-pop landlords decide it's not worth the effort to stay in business and look to cash out by selling to anyone who can take it off their hands.
There are two problems with this. The first is that many of these institutional investors have not proven to be great landlords, focusing on short term profits at the expense of good tenant experiences, skimping on maintenance and repairs as part of cost-cutting measures and ignoring tenant calls.
The second is more problematic at a societal level. As it becomes more capital-intensive and operationally-challenging to be property owners and landlords, only large institutional landlords that manage many multi-unit properties can afford to stay in the game. It will be will be increasingly difficult for the average city-dweller to join the ranks of homeowners. Owning real estate has long been one of the primary ways for accumulating wealth in America. Shutting out entire classes of people from this opportunity is effectually contributing to a continued transfer of wealth from individuals to large real estate developers and management companies, as they scoop up properties from desperate landlords who are looking to get out of the game.
---
The point is, I'm torn. On the one hand, as a renter, it's obviously very nice when my rent doesn't go up by much (or at all) each year. On the other hand, at a macroeconomic level, the more that we artificially constrain prices for housing, the tougher it is for independent landlords to do their job well, and the more that our nation's housing stock will shift to larger corporations rather than individuals.
If you've been a renter in a place like New York, it can be difficult to drum up any sympathy for the plight of landlords. Many of us, myself included, have horror stories of landlords who refuse to do proper maintenance and upkeep on their properties, are unresponsive to tenant concerns, and harass tenants with threats of evictions. There's no excuse for bad behavior from landlords, and in a seller's market, they often got away with such practices; now that the economy has soured, it may feel vindicating that landlords are finally getting their due. But before we jump to denouncing landlords unilaterally, it may be useful to consider what the alternative may be: urban buildings managed by large, faceless institutions who will treat properties purely as investments and make it harder for individuals to achieve their slice of the American Dream.
The final vote for the Rent Guidelines Board will take place on June 17, and you can catch the livestream here.
Other interesting stuff: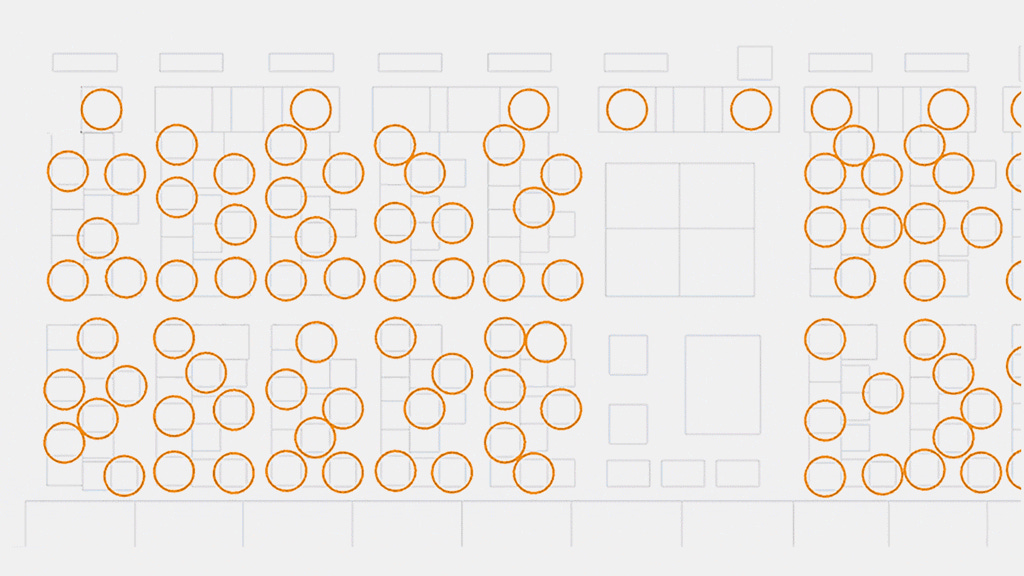 "Generative design" (likely some packing algorithm) loosely applied to a floor plan to ultimately land on placing a circle at every other desk. Companies are apparently lining up for this. (
Image from the RIBA Journal
).
---
And that's a wrap for my first issue! If you like what you read, leave a comment or share this with a friend. And if you'd like to get the next issue straight in your inbox, drop your email below!